A picture of the fuel tap and the ON stack pipe removed, it's just an interference fit, yours may be blocked up, or you may have a fuel pump power relay problem, rest a finger on the end of the fuel pump while the engine is running and feel for it knocking.
The earplug was just to blank off the fuel pipe to stop bugs from finding somewhere new to live.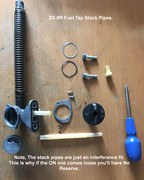 _________________
Just got yourself a ZX-9R, then do yourself and your bike a favour, read this thread the sticky post in General Technical viewtopic.php?f=21&t=28097
Please
will forum members put their bike model letter, & 1 or 2 after their
Profile Location. eg: Your Town
& B1,2,3,4 C1,2 E1,2 F1,2
As all zx9's are all slightly different, and I get fed up having to ask which model & number, as a year may not be accurate.